Lacey Lauterio's experience in the food service industry started at an early age in Los Angeles where she worked with her father, the owner of a craft services company that catered to actors on television and movie sets.
More than two decades later — after Lauterio worked in restaurants and launched her own organic cocktail line — she teamed up with her husband Mark MacGillivray to open Lacey's Take Away, a grab-and-go destination that serves egg bites, overnight oats, superfood salads, wraps, sandwiches, soups and more in a portion of Liberty Tap Room's former home at 1028 Johnnie Dodds Blvd. 
Lacey's Take Away is now open from 7 a.m.-6 p.m. Monday through Friday and 9 a.m.-6 p.m. Saturday. 
Charleston is not as fast-paced as some of the country's larger cities where fast-casual brands, many of which are chains, serve as go-to lunch and dinner options for those in a hurry. Still, Charleston's appetite for quick meals that aren't lacking in quality is growing, just like the number of independently owned counter-service restaurants with roots in the Holy City.
Lacey's Take Away is bringing something different to the market, catering to individuals and families alike by serving a combination of ready-to-eat items and take-and-bake dinners. Options are intended to be healthy without skimping on flavor, meaning patrons can expect savory bites like falafel and chicken Parmesan to be baked rather than fried, for instance. 
Take away items from the food-filled refrigerators can be paired with coffee, lattes and cappuccinos, perhaps with one of Lacey's house-made syrups. 
"Everything is grab-and-go, from breakfast all the way up to dinner," MacGillivray said. "It's not all healthy, but it certainly vibes toward healthy."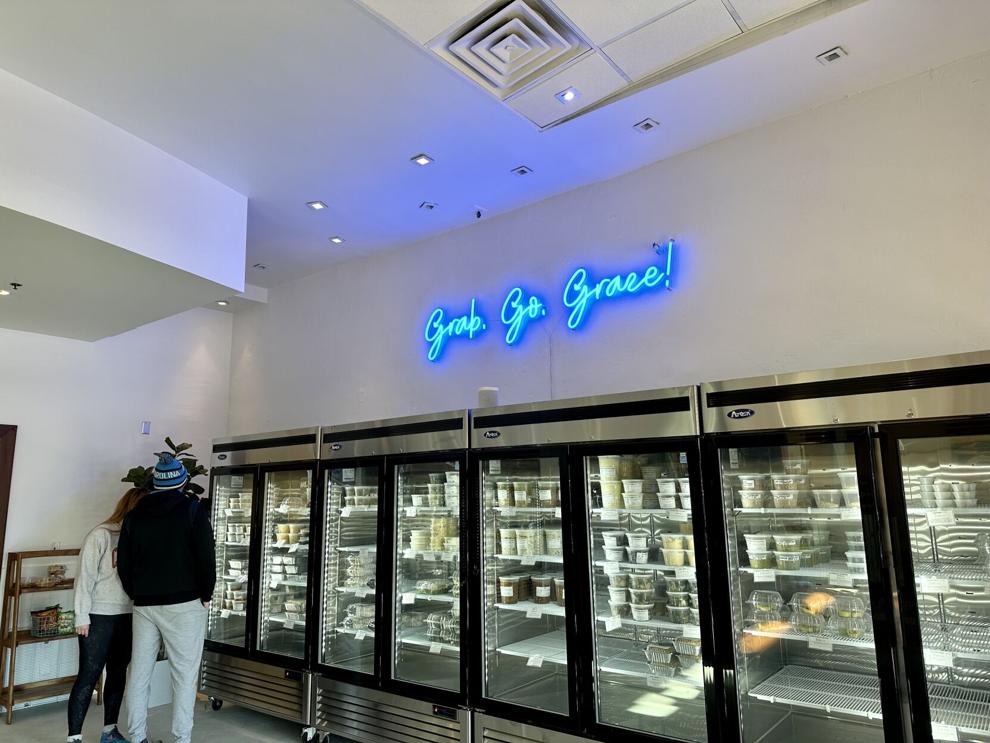 Like some other independently owned Charleston area counter-service restaurants — Verde, Kairos Mediterranean, Saveurs du Monde and Bon Banh Mi among them — Lauterio and MacGillivray hope this location is the first of several across the Lowcountry. 
"I've been in it my whole life," Lauterio said of her food and beverage industry experience. "As long as you are friendly and in love with what you're doing and the passion comes through, I think that's all that matters." 
Back to basics 
Jenny Gaddy, owner of Charleston's Atlyss Food Co., has developed a passion for healthy cuisine and sustainability during a long career in the food and beverage industry. Gaddy has worked as a head chef on a yacht, owned a baking company, and spent time in multiple high-profile New York City and Charleston kitchens. Now, she leads a meal delivery service offering "fresh, healthy and restaurant quality" meals in sustainable packaging.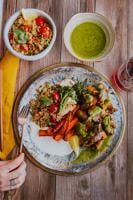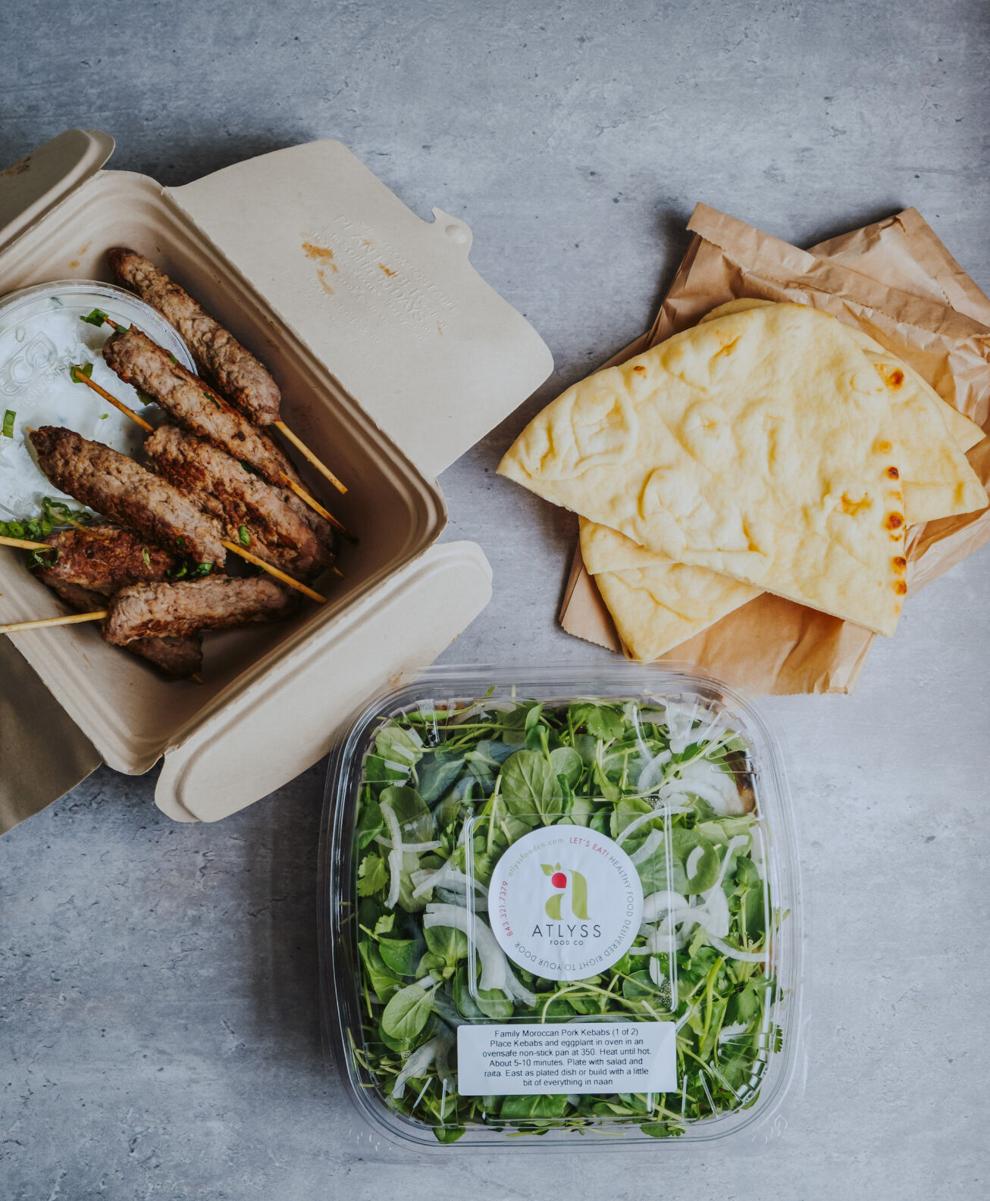 By launching Atlyss in 2019, Gaddy was well ahead of other meal delivery services rushing to meet the demand from a wave of people eating at home amid the pandemic.
To date, most the company's Atlyss Elevated meals have come deconstructed, with basic instructions for finishing each dish. 
That has changed with the recent launch of Atlyss Basics, single-portion meals that can be ordered in six-, eight- or 10-packs through a weekly subscription service. Each Atlyss Basics meal has a carnivore and plant-based option, meaning you could order Indian butter chicken one week and Indian butter chickpeas the next. Herb-marinated flank steak with potatoes, kale Caesar salad and pesto orzo with salmon are among the other Atlyss Basics options, which arrive with labels detailing the ingredients and nutritional value. 
"Atlyss Basics now lists all of the macros, which is a great way for people who are wanting to eat healthy to better understand what they are eating. They have the key nutritional information at their fingertips," Gaddy said. "We are giving them the option of still having chef-created, sustainable meals, but in an even simpler way."
The single-serve compostable packaging makes Atlyss Basics more affordable and sustainable than the Atlyss Elevated meals, though both are delivered in a reusable cooler bag that customers unload upon arrival and return so it can be utilized the following week.
Gaddy's mission to run a green business extends to Atlyss' new home at Charleston Commercial Kitchen. 
The 27-tenant commissary kitchen is owned by a subsidiary company also operated by Gaddy, who hopes to soon transform the building into a green space, with plans to install more energy-efficient lighting, appliances and plumbing, as well as adding a new roof with solar panels and greenery.